Suzie Sage and Alfie, Retriever cross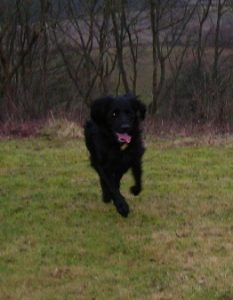 "Nicola walks my dog every week and he loves her! I only have to say that "Nicola's coming" and he runs to the front door and looks for his lead!  She is reliable, punctual and I would recommend her to anyone looking for a dog walker."
---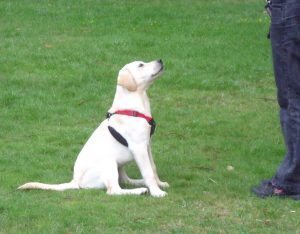 Sarah Healy and Paddy, Labrador Retriever
"Nicola has been walking Paddy twice a day since he was about 6 months old and has been such a help. As a young Labrador, who has high energy and intelligence levels, we felt awful leaving him during the day to go to work. However, Nicola has taken this in her stride and leaves me in no doubt that Paddy is in safe hands and is getting the care, stimulation and exercise that he needs. Nicola has adapted and tailor made her service to fit around Paddy's needs and knowing that he is coming home a tired, well-behaved and happy dog leaves me in confidence that Nicola is more than capable to cater for his requirements! Nicola is reliable and trustworthy and her genuine love for her work sets her apart from other dog walkers.
It's a weight off our minds to know that Paddy is left in such caring, capable hands and is getting the love and attention he deserves. It is without hesitation that I would recommend Pet Necessities Dog Walking and Pet Care to other pet owners."
---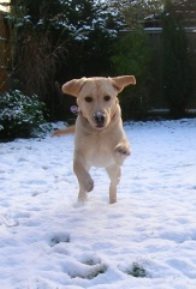 Jim & Hiroko McCloskey and Maggie, Labrador Retriever
"We would strongly recommend the pet sitting service. We were very impressed with the thorough way in which Nicola prepared in advance, visiting beforehand and making sure our individual requirements were met – eating, sleeping and walking schedules. We had real peace of mind during the week we were away, and came back to find an immaculate house and a happy dog."
---

Anand & Arohi Gadgil with Beer and Sarja
"We are owned by our two dogs; a German Shepherd and a Labrador Retriever. The shepherd is the younger one (15 months) and has never been in kennels before. The Labrador has been in the kennels previously but has always greeted me with slight anger upon return. She is a bit fussy and has not been happy during her stay in the kennels.
This time, Nicola from Pet Necessities agreed to stay overnight and care for our dogs while we were on holiday for two weeks. The dogs eat home-cooked food and are fairly pampered, to
say the least!  Nicola took five-star care of them. She walked them twice every day, fed them home cooked food and did not leave them alone longer than normal.  Both the dogs were very happy with her.  With Pet Necessities, the dogs were at home and well cared for. It was evident that they were happy during our absence by the way both greeted us when we came back.
I am very happy to recommend the 'Dog walking and Pet Care' services from Pet Necessities!"
---
Vivan Gicquel & Daisy, Golden Retriever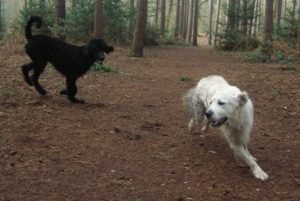 Well Done Pet Necessities!
My Golden Retriever puppy "Daisy" loves her walks with Nicola and I feel very reassured when I know she's out with her. I don't have to feel guilty that she is missing out when I'm very busy, and Daisy always comes home with a big grin on her face!
Thank you, Vivian Gicquel
---
Liz Statham & Molly, Fox Terrier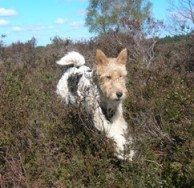 I would like to say what a fantastic job Nicola does with Molly. I'm away from home far more often, and leaving Molly far more than l'd like at the moment, and it is such a comfort to know that Nicola is spending time with her.
It's a great service: thank you! Liz
---
Darren & Max Appleby & Alfie, West Highland White Terrier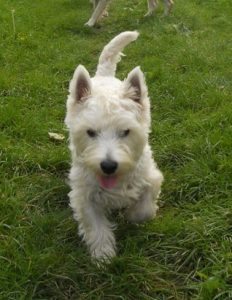 "We moved to Egham in February 2010 when Alfie was just 6 months old. We had done a little bit of basic training but really wanted to build on it so we went to Pet Necessities and attended their 6 week fundamental training course. During this time, we both managed to land new jobs and our first concern was having someone to look after Alfie while we were out most of the day.
We spoke to Sarah and Nicola to arrange a daily dog walk and a year down the line, it has proven to be a masterstroke.
We go to work totally at ease knowing that he's going to get exercise (and have lots of fun and stimulation) with other dogs; it has completely reinforced all the initial training we worked upon – he's a star for heeling, recall, waiting – a very bright boy! And we know how much he loves Nicola – the odd time we're there when she arrives and his ears go right down and he wags himself silly. It's very cute.
We're so happy that Alfie's with professionals that love him and look after him completely when we're away for the day – it's allowed us to get on with our careers and still take proper care of our very special pup.
Thank you so much Nicola and Sarah for all you've done for us and especially for Alfie!"
---
Tracey Rivers & Lucy, Labradoodle
"Nicola, at Pet Necessities, walks our Labradoodle Lucy twice a week – these are the days when I work all day … what a life saver. Lucy gets a really long walk in the company of other dogs, which she loves. Nicola is trustworthy and reliable and Lucy gets SO excited when she sees her. Come rain or shine Nicola has never let us down, and dealing with a giant excitable soggy doodle would try most people's patience, but not Nicola! It is also useful that as we did our training with Pet Necessities Nicola is using the same commands as we do – I think this consistency has proved helpful as has the socialisation with the other dogs who walk with her."
---
Caroline Rose & Alfie, Cocker Spaniel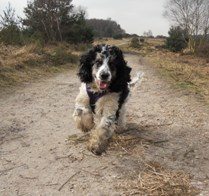 "Amazing, professional … what can I say about Pet Necessities! Alfie my Cocker Spaniel is now two years old, I firstly came to Pet Necessities to train Alfie, who was a very energetic puppy who had a bad start in life and because of this arrived with lots of attitude!! It took quite a time for Alfie to calm down and I could not spend as much time on training lessons as I had hoped but my saving grace was meeting Nicola. Although I only work part time Nicola started walking Alfie two days a week and immediately I noticed a difference. He calmed down, was more confident and was a delight to walk with.
I would be completely lost without Nicola … she is totally professional, trustworthy, charming and has always helped me out whenever I have had to change days. Alfie has matured into such an amazing dog, he's confident and social around other dogs because of his group walks, he is a joy to travel with in the car and from 6 months was enjoying trips in the car twice a year to the South of France, unfortunately now air travel to Europe is out of the question as I think he would leave home in disgust if we ever left him!
This is not just a dog walking service as Nicola's dog behaviour and training expertise/skills elevate Pet Necessities to a level above all other competitors".
---
Pet Necessities Dog Walking & Pet Care – 07837 967 139 – dogwalking@petnecessities.co.uk