Description
The AniMat Cool Gel Dog Mat uses a unique patented gel that stays cool with no activation. Super cool – perfect for your pet on hot days.
Is your dog young, old, long coated, flat-faced or on medication? The AniMat is a beneficial aid for them.
Is your dog fit and active? Dogs can easily overheat after enthusiastic exercise or play; using the AniMat Cool Gel Mat is the ideal way to cool your dog safely and effectively.
AniMat Cool Gel Mat: clinically proven to lower a pet's temperature by direct touch reducing the risk of potentially life threatening effects of over heating from heat-stroke, stress, dehydration, lethargy and loss of appetite.
Uses: perfect for use at home, travel, kennels, camping or on holiday.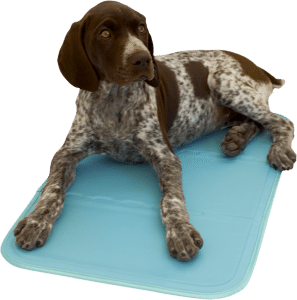 Why it is better than other cool mats:
Contains patented cooling gel

No activation needed

Folds for easy storage

Non-toxic, tough and durable – even withstands cats claws!

Washable exterior stays cool for hours
No refrigeration or electricity is needed.  Perfect for pet's bed, crate, kennel or car travel. 
Sizes of the AniMat Cool Gel Dog Mat:
Medium – 45cm x 80cm

Large – 60cm x 90cm
Only available in light blue.
Paw puncture proof but do not allow your dog to chew.  Supervised use only.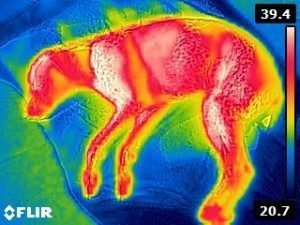 After exercise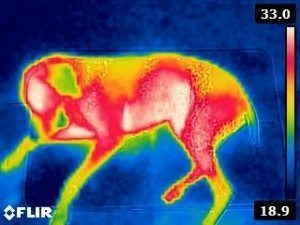 After 10 minutes on Animat Cool Gel Pad
Please follow and like us:
Tags: animat, cool gel mat, cool mat, cool pad, cooling mat, dog, dog cooling, gel mat, hot dog