Description
Designed to be as stretchy and flexible as possible, the Beco Hoop on a rope is made from natural rice husk rubber making it non-toxic and extra durable.  The Beco Hoop's varying thickness around its circumference makes it easy for any size of dog to get a good grip.  Perfect for teething puppies as they love to chew on both the rubber and the rope.  Playtime is essential for dogs and interactive play helps to increase the pet-owner bond.  

Rope made from 100% natural cotton
Hoop made from natural rubber and rice husk fibres
Flexible yet durable
Toxin free
Vanilla scented
Great for combining fetch and tug-of-war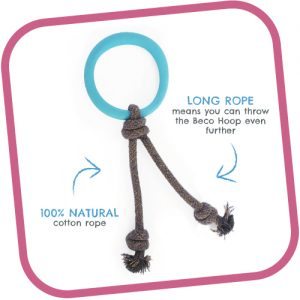 Sizes of the Beco Hoop on a Rope:
Small: approximate length 30cm.  Suitable for breeds such as Tibetan Terrier, Cavapoo.  
This is not a chew toy.  As with all treats and toys, it is important to supervise use.  Only available in green.
We sell many toys in the Beco Eco range.  Take a look at the other options, here.
Pet Necessities' recommends this product for:
Motivating and rewarding your dog during training
Having fun with your dog
Teaching your dog to play with toys
Please follow and like us:
Tags: Beco, beco dog toys, beco hoop on a rope, beco toys, dog, dog hoop toy, dog rope toy, dog rope toys, dog toys, hoop on a rope, hoop toy, natural dog toys