Description
Buster Soft Cube is soft yet durable. It reduces the noise during play, making it ideal for use on wooden or hard floors.
As with the original Buster Cube, you can fill the Mini Buster Soft Cube with your pet's favourite food or treats to stimulate your dog both mentally and physically, by encouraging natural hunting instincts which will help keep them entertained for hours. There are separate compartments inside the cube that the treats fall into once filled. Unlike a standard treat ball, the cube will allow the release of a treat intermittently, not just when the hole reaches the floor.
The small Buster Soft Cube is made of a soft, non-toxic and recyclable material, which is safe for dogs and reduces the noise during play.
As with all interactive toys, it is important to supervise play.  Only available in red.
Pet Necessities' Training Tip:
Why not try feeding your dog his daily food allowance from the Buster Soft Cube? It is a waste letting him eat it in less than a minute, why not make it last twenty?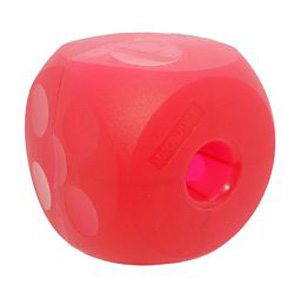 Size of the Mini Buster Soft Cube Dog Toy:
Approximate size 8cm. Suitable for dogs under 10kg, breeds such as King Charles Spaniel, West Highland White Terrier, Pug.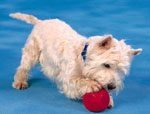 Pet Necessities recommends the use of this product with Nature's Menu Treats, Fish4Dogs Superstar Training Treats and Kronch Salmon Treats found here
.
Pet Necessities recommends this product for: 
Under-stimulated and bored dogs.

Dogs that eat their meals too quickly, risking bloat.

 

Also see our selection of Slow Down Bowls.

Helping keep worried dogs' minds off scary situations, such as fireworks. 
Please follow and like us:
Tags: bored dog, buster, Buster Cube, Buster Soft Cube, dog, dog stimulation, dog stimulation toy, dog toy, dog treat ball, dog treat toy, food toy, food-dispensing toy, mental stimulation toy, treat ball