Description
The Busy Buddy Tug-a-Jug provides a multi-sensory appeal to keep your dog engaged and motivated to play. The unique design of this patented toy allows dogs to see, smell and hear the treats as they roll around in the jug. The treats are dispensed after such a wide variety of behaviours that the dog has to keep re-inventing new solutions.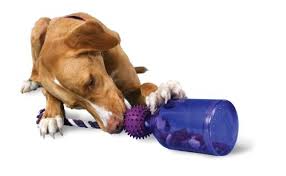 The Tug-a-Jug not only dispenses treats, but can also be used for feeding meals.  
This is a very tough and challenging dog toy!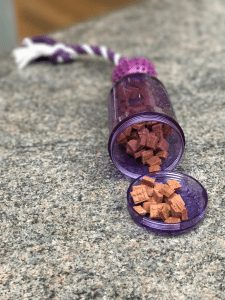 Pet Necessities' Training Tip:
Why not try feeding your dog his daily food allowance from the Busy Buddy Tug-a-Jug? It is a waste letting him eat it in less than a minute, why not make it last twenty?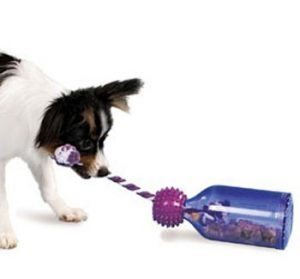 Sizes of the Busy Buddy Tug-a-Jug:
Extra Small: length 17cm, diameter 6cm.  Suitable for breeds such as Dachshund, Papillon.

Small: length 15cm, diameter 9cm.  Suitable for breeds such as Border Terrier, Cocker Spaniel.  

Medium/Large: length 29.5cm, diameter 10cm. Suitable for breeds such as Labrador Retriever, German Shepherd.
As with all interactive toys, it is important to supervise play.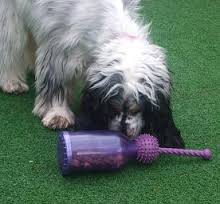 Pet Necessities recommends the use of this product with Nature's Menu Treats, Fish4Dogs Superstar Training Treats and Kronch Salmon Treats found here
.
Pet Necessities recommends this product for: 
Under-stimulated and bored dogs.

Dogs that eat their meals too quickly, risking bloat.

 

Also see our selection of Slow Down Bowls.

Helping keep worried dogs' minds off scary situations, such as fireworks. 
Please follow and like us:
Tags: bored dog, Busy Buddy, dog, dog food toy, dog stimulation, dog stimulation toy, dog toy, dog treat toy, food toy, food-dispensing toy, hard dog toy, mental stimulation toy, tough dog toy, treat ball, treat toy, Tug a Jug, Tug Jug, under stimulated dog