Description
Fish4Dogs Finest Salmon Mousse is a luxurious treat for dogs.  Made with salmon and seaweed, this mousse will be a delight for your dog.    
Fish4Dogs products contain no artificial colours, flavours or preservatives.  They are naturally gluten and grain free.
100g pouches.  Serve immediately after opening.  Always ensure fresh water is available.  
Ingredients:
Salmon

Water

Seaweed extract

Carrageenan
Nutritional Analysis:
Protein – 9.4%

Fat – 13%

Ash – 1.4%

Fibre – 1.3%

Moisture – 63.3%

Pet Necessities' Tip:
Why stuff your dog's food toy with unnatural products?  This mousse can be squished into a Kong or similar food toy perfectly.  Put some hard biscuits or dried fish inside also, and then freeze for an added challenge.  This helps to keep him stimulated for longer, but also gives you peace of mind knowing that he is eating something 100% natural.
Fish4Dogs Salmon Mousse can be smeared into a LickiMat to keep your dog entertained for ages.  Also suitable for freezing.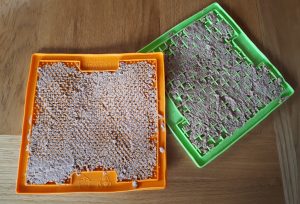 Please follow and like us:
Tags: dog, dog mousse, dog training treats, dog treats, fish 4 dog mousse, fish dog treats, fish for dogs, fish for dogs treats, fish4dogs, fish4dogs mousse, fish4dogs treats, healthy dog treats, natural dog treats, salmon, salmon dog treats, salmon mousse, training treats