Description
Fish4Dogs Skinny Strips are the fish version of raw hide! Rather than chew, dogs crunch through these large dental treats that are comfortably held in the paws. 
The naturally rough texture of Sea Jerky helps to reduce tartar from dogs' teeth and they are packed full of essential fish oils.
Help remove plaque from teeth

Rich in Omega 3

All natural
Fish4Dogs products contain no artificial colourings, flavourings or preservatives.  100g bag.
Ingredients:
100% fish skin (nothing else)
Nutritional Analysis:
Protein – 95.5%

Ash – 12%

Oil – 2.6%

Fibre – 1%

Salt – 0.1%

Omega 3 – 5.7%
Pet Necessities recommends this product for:
Why stuff your dog's food toy with unnatural products?  Instead squeeze some dried Fish4Dogs Skinny Strips inside and watch your dog try for ages to get them out.  This helps to keep him stimulated for longer, but also gives you peace of mind knowing that he is eating something 100% natural. 
Pet Necessities' Training Tip:
Why not squeeze a Skinny Strip into a Kong, and then place another Kong on the protruding piece of Skinny Strip?  If you break a small bit off each end of the strip you can attach two Kong's together to make it super-hard for your dog to unstuff!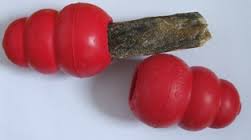 Please follow and like us:
Tags: dental chews, dog, dog treats, fish 4 dogs, fish chews, fish dog chews, fish dog treats, fish for dogs, fish treats, fish4dogs, healthy dog treats, kong stuffing treat, natural dog treats, salmon chews, salmon treats