Description
K9 Connectables Interactive Dog Toys provide excellent mental stimulation opportunities for your dog.  Dogs of all ages, sizes and ability levels will benefit from these toys.  Stuff the toy with food and let your dog work out how to unlock the treats.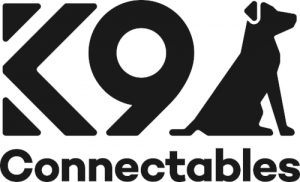 Benefits of the K9 Connectables:
Stuff with food to provide essential stimulation for your dog
Encourages your dog to use their natural instincts to search and hunt for food
Dishwasher safe on the top rack
Made from non-toxic rubber and BPA and Phthalate free
Can be put together in many different ways, making it a unique toy every time
Excellent for keeping your dog challenged, occupied and stimulated
The whole range of dog toys float in water
They are suitable for games of fetch; a safer alternative to sticks
K9 Connectables The Original fits into a standard sized ball launcher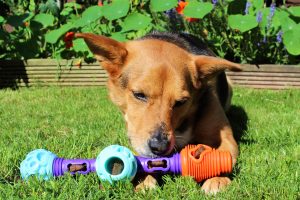 As with any toy it is important to supervise use.  Ensure you remove the toy from your dog if it is damaged; no toy is completely indestructible.  Not suitable for extreme chewers.
Available as pack of three.  Free postage will be applied at the checkout.
Tech Bone: You can stuff the holes of this toy with peanut butter or cheese spread, as well as hard treats. Approximate length, 22cm.
The Original: Has two connection levels of difficulty. Approximate width, 7cm.
The Dentist: With small grooves to encourage teeth cleaning as your dog chews.  Comes with three connection levels of difficulty, making them harder to break away from the Tech Bone than The Original Toys. Approximate width at widest part, 6cm.
Colours may vary from those shown.
We sell a wide range of healthy dog treats, suitable for use in these toys.
K9 Connectables Puzzle Packs
Available in three sizes:
Mini: for dogs weighing 3-9 kg
Medium: for dogs weighing 8 – 25 kg – OUT OF STOCK
Large: for dogs weighing 20-40 kg
Puzzle packs contain two toys: The Original & the Dentist.  This allows you to increase the level of difficulty and extend playtime.
Please follow and like us:
Tags: brain games, Busy Buddy, canine connectables, Challenging dog toy, Chicken and Carrot Treats, connectable toy, Connectables Treats, dog brain games, dog toy, hard dog toy, healthy dog treats, K9, K9 connectables, K9 Connectables Puzzle Packs, kong, Large K9 Connectables, Large Puzzle Pack, Medium K9 Connectables, Medium Puzzle Pack, mental stimulation toy, Mini K9 Connectables, rubber dog toy, Small Puzzle Pack