Description
The Kong Air Dog Ball on a Rope is a great tug and fetch toy. The Air Kong ball floats on the water's surface making it perfect for retriever training on land and water.  A fun toy that will help strengthen the bond between you and your dog, while giving your dog a great workout.  This ball really flies!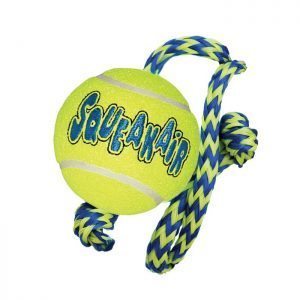 Benefits of the Kong Air Dog Ball on a Rope:
Perfect for games of fetch.

Squeaker to induce play.
Made from non-abrasive tennis ball material, meaning it won't wear down your dog's teeth.  Many dogs have very worn teeth due to tennis ball play.  You can play with your dog with this toy with the peace of mind that that won't happen.
Available in one size: Medium: Diameter = 6cm (average tennis ball size).
Suitable for breeds such as Cocker Spaniel, Labrador Retriever, Tibetan Terrier.
As with all treats and toys, it is important to supervise use.
Pet Necessities recommends this product for:
Motivating and rewarding your dog during training.  

This dog ball is perfect use during competitive dog sports such as obedience training, dog agility, flyball, gundog training, etc.
We sell a number of other toys in the Air Kong range. You'll find them here.
Please follow and like us:
Tags: Air Dog, Air Kong, ball on rope, dog, dog ball, dog toy, kong, kong ball, Kong ball on rope, kong dog toy, kong dog toys, kong toys, squeaky ball, squeaky ball on rope, squeaky dog toy, squeaky toy, tennis ball