Description
The Kong Extreme is the World's Best Dog ToyTM!  
One of the world's strongest rubber dog toys, great for those super-chewers!

 
Enthusiastically recommended by dog professionals worldwide including trainers, behaviourists, veterinarians, rescue staff, breeders, etc.  It shares the same hollow centre as the Classic Kong so that treats and snacks can be inserted as a boredom-breaker.

 
Sizes of the Kong Extreme:
Large: Suitable for breeds such as Springer Spaniel, Golden Retriever

Extra Large: Suitable for breeds such as German Shepherd, Newfoundland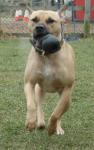 Pet Necessities recommends this product to:
Increase mental stimulation in bored dogs

Relieve worries of being left alone

Teach calm behaviour

Give positive associations to areas such as a crate.  In our opinion, a stuffed Kong is essential when dog crate training

Help keep worried dogs' minds off scary situations like fireworks.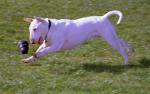 Pet Necessities' Training Tips:
Why not squeeze some healthy Fish4Dogs Treats inside the Kong to make it really hard to get out?

Stuff and freeze the Kong to make it harder to empty and cooling on hot days.

Microwave with contents of kibble and cheese until melted – yummy!

Don't forget, daily food allowance can be used inside the Kong too.  If using dried kibble, mix with something wet to help keep the contents inside and make it a tougher challenge!

We also have a large selection of stuffing recipes on our website in our Toy Stuffing Recipes section.
Please follow and like us:
Tags: bored dog, dog, dog food toy, dog toy, keep dog amused, kong, kong stuffing, kong toy, konk, my dog is bored, stuffing toy