Description
The Kong Gyro is perfect for occupying and stimulating dogs, as each time the dog moves the centre ball, he is rewarded by the release of food.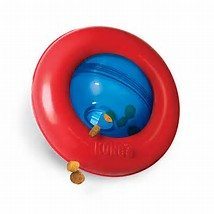 The Kong Gyro is sure to entertain with an irresistible roll and flip action that entices and intrigues dogs.  The dynamic centre spinning orb and static outer ring encourages dogs to push, paw and roll the Gyro, delightfully dispensing tasty treat rewards along the way.  Ideal for independent play, stuff with snacks or kibble for added fun and extended playtime.  Available in large and small sizes.
As with all interactive toys, it is important to supervise play.
Sizes of the Kong Gyro:
Small: Suitable for breeds such as Cocker Spaniel, Wheaten Terrier up to 18kg.  Approximate diameter 13 cm.
Large: Suitable for breeds such as Labrador Retriever, German Shepherd, Border Collie between 16 and 35 kg. Approximate diameter 17 cm.
Pet Necessities' Training Tip:
Why not try feeding your dog his daily food allowance from the Kong Gyro? It is a waste letting him eat it in less than a minute, why not make it last twenty?
Pet Necessities recommends the use of this product with Nature's Menu Treats, Fish4Dogs Superstar Training Treats and Kronch Salmon Treats found here
.
Pet Necessities recommends this product for: 
Under-stimulated and bored dogs.

Dogs that eat their meals too quickly, risking bloat.

 

Also see our selection of Slow Down Bowls.

Helping keep worried dogs' minds off scary situations, such as fireworks. 
Please follow and like us:
Tags: bored dog, dog, dog stimulation, dog stimulation toy, dog toy, dog treat toy, food toy, food-dispensing toy, Gyro, kong, kong dog toy, Kong Gryo Dog Toy, Kong Gyro, kong toy, treat ball, treat toy