Description
The Kong Quest Critter Frog is a treat-dispensing toy with heaps of personality!  Made using a brightly coloured and flexible material. This toy is great for light to moderate chewers and can be stuffed with your dog's favourite treats or kibble.  This will simulate natural foraging behaviours and extend treat time.
Suitable for breeds such as Labrador Retriever and Border Collie.  Approximate length – 15 cms.
As with all dog toys, it is important to supervise their use.  It is important to note that this toy is not suitable for strong chewers.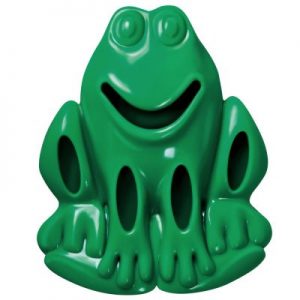 Pet Necessities recommends Kong Quest Critter Frog to:
Increase mental stimulation in bored dogs.

Teach calm behaviour.

Give positive associations to areas such as a crate.

Help keep worried dogs' minds off scary situations like fireworks. 
Please follow and like us:
Tags: bored dog, Critter Frog, dog, dog activity toy, Dog mental stimulation, dog stimulation toy, dog toy, food toy, kong, Kong Critter, Kong Critter Frog, kong quest, kong toy, stuffable toy