Description
LickiMat Buddy Boredom Busters are ideal for keeping your pet amused and entertained.  Suitable for cats and dogs, they can be loaded with your pet's favourite treat for long-lasting playtime.  The Lickimat Slomo is a combo slow feeder, for loads of lickable fun.  It's the perfect way to feed wet and dry food together.  Two different surfaces, divided into four sections allow different food to be served at the same time.
The deluxe versions of the LickiMats are much stronger than the original versions and dishwasher friendly, which is a huge bonus.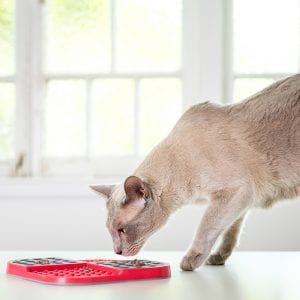 Example of treats for use with the LickiMat Slomo:
Natural yoghurt
Peanut butter (xylitol free)
Cheese spread
Canned sardines in spring water
Crushed pet food, softened with water
Wet pet food
For professional advice on which human foods are suitable for your pet, please consult your vet.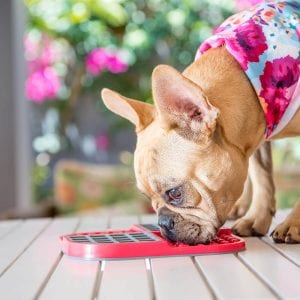 Key features of the LickiMat Slomo:
Combination feeding
Freeze treats in the summer for increased play time
Soothe and calm your pet through licking
Enjoy small treats without overfeeding
Stimulate saliva to promote digestive health
Give your pet vital mental-stimulation
To occupy your pet when left alone
Made from non-toxic material
Microwave proof, freezer friendly
Dishwasher safe
Suitable for pets of all ages
Comes in red.  Size 20 x 20 cm / 8″ x 8″. It is advised to occupy your dog during first few uses of the LickiMats to ensure they don't chew them.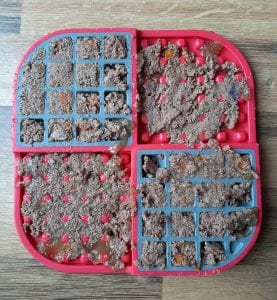 Please follow and like us:
Tags: bored cat, bored dog, boredom buster, cat toy, cat treat mat, cat treat toy, deluxe lickimats, dog toy, dog treat mat, dog treat toy, Lick Mat, Licki Mat, LickiMat, lickimat slomo, Licky Mat, LickyMat, slomo, slowmo, Treat Mat, treat toy