Description
The Nite Ize Nite Dawg LED Soft Disc is made of flexible nylon, making it pliable and lightweight.  It is an LED powered flying disc that's just as easy and fun for you to throw as it is for your dog to catch.  The frisbee is made from soft, sturdy fabric that is mouth-friendly and extra easy on canine gums and teeth. Inside the double-stitched housing is a fully protected battery compartment with a canine-resistant cap.  It also has an on/off switch that activates the LED which illuminates the entire outer rim. Press once for a steady glow and twice for flashing, and enjoy hours of early evening catch under the stars.
Batteries and S-Biner double-gated carabiner included for convenient carriage and storage.  
Many owners struggle to give their dogs enough exercise in the winter, meaning lots of under-stimulated dogs. The Nite Ize Nite Dawg LED Soft Disc allows you to play with your dog after dark, and give him the exercise he requires.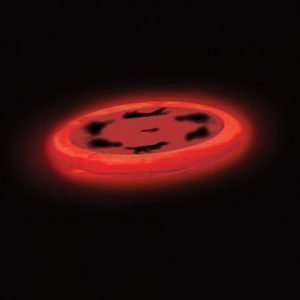 This Nite Ize Nite Dawg LED Soft Disc weights 85g and has a di
ameter of 20cm.
As with all treats and toys, it is important to supervise use.   Furthermore, this is not a chew toy.
Please follow and like us:
Tags: dog, dog flyer, dog frisbee, flashing toy, glow dog toy, glow in the dark dog toy, nite ize, Nite Ize flyer