Description
The O'Tom Tick Twister is the best and safest way to remove ticks without leaving the mouthparts of the tick planted in the skin.   Also without the use of chemicals. Quick and painless without squeezing the tick, thus reducing the risk of infection.
Two sizes supplied in each pack (one for the adult tick, the other for larvae and nymph ticks).
Instruction for using the O'Tom Tick Twister 
1. Choose the most suitable size hook.
2. Slide the hook under the tick from the side of the tick's body.
3. Very gently lift the hook and twist, after 2 or 3 full rotations the tick will detach itself.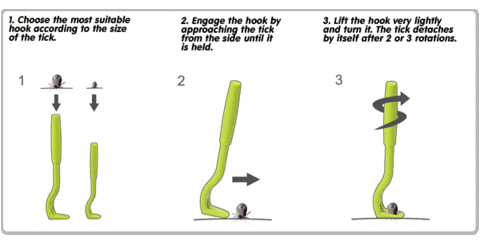 Suitable for use on dog ticks, cat ticks, rabbit ticks, horse ticks and rodent ticks.
Please follow and like us:
Tags: cat, cat tick, dog, dog tick, horse, horse tick, O'tom, O'tom tick twister, rabbit, rabbit tick, tick, tick remover, tick twister