Description
Petlife KarmaWrap helps your dog feel safe, much as giving a hug or swaddling a baby.  The constant gentle pressure applied around your dog's chest and torso helps him/her feel secure and less anxious.  With this wonderfully induced sense of security he/she feels calmer and, as a result, displays quieter and more relaxed behaviour.   
KarmaWrap has been proven to work on 85% of distressed or anxious dogs.  It comes with a '100% money back guarantee' if returned within 45 days (to Petlife) with proof of purchase.   Therefore, you are assured 100% satisfaction.
KarmaWrap is already helping tens of thousands of dogs around the world.  It is recommended by thousands of veterinarians and dog trainers. KarmaWraps are also recommended by Tellington TTouch practitioners and dog behaviourists.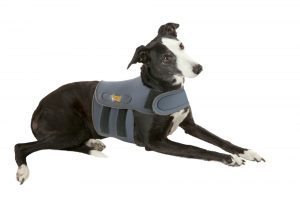 Use Petlife KarmaWrap for:
Fear of thunder

Separation anxiety

Barking problems

Any noise anxiety

Car or travel anxiety

Crate anxiety

Reactivity

General fearfulness

Excitability

Pulling on the lead

General training tool

KarmaWrap is available in different sizes to suit many breeds. To ensure correct size for your dog, measure completely around the chest, just behind the front legs.
Sizes of the Petlife Karma Wrap:
Medium: 56 – 71cm, 22″ – 28″
Large: 66 – 86cm, 26″ – 34″
Only available in grey.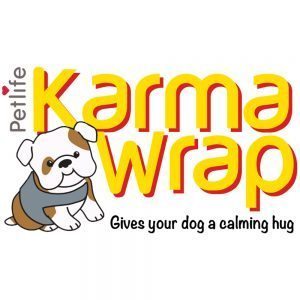 Please follow and like us:
Tags: anxiety shirt, anxious dog, calm dog, dog anxiety, dog behaviour problem, Karma Wrap, Petlife, reduce dog anziety, Tellington TTouch, Thudershirt