Description
The Puppy Kong has a special teething formula which makes the rubber softer for young, brittle teeth, but still as durable as the original Classic Kong. 
Ideal to use during a puppy's teething stage, they can also be stuffed with tantalising treats to keep puppy happy and stimulated when left alone.
Suitable for puppies up to 9 months of age.
Sizes of the Puppy Kong:
Large: Suitable for breeds such as German Shepherd, Newfoundland.
Pet Necessities recommends this product to:
Increase mental stimulation in bored puppies.

Relieve worries of being left alone.

Give positive associations to areas such as crates.

Reduce play biting in teething puppies.

Help keep worried dogs' minds off scary situations like fireworks.

  

We also have a large selection of stuffing recipes on our website in our Toy Stuffing Recipes section.

                                                                  

 
Pet Necessities' Training Tips:
Stuff and freeze the Kong to make it harder to empty and cooling on hot days.

 

Don't forget that freezing your Kong also gives a cooling sensation to your puppy's sore teeth and gums.

Microwave with contents of kibble and cheese until melted – yummy!

Don't forget, daily food allowance can be used inside the Kong too. If using dried kibble then mix with something wet to help keep the contents in and make it a tougher challenge!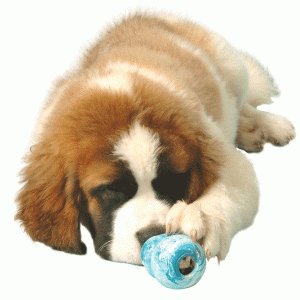 Please follow and like us:
Tags: bored puppy, dog, food toy, food-dispensing toy, kong, Kong puppy, puppy, puppy food toy, Puppy Kong, puppy teething toy, puppy toy, teething puppy, treat ball