Description
Chewing releases endorphins in the brain and keeps dogs busy and happy, meaning it is an essential behaviour.  Pure Dog Bullbars last a very long time, longer than many other dog chews on the market. The bars wear down gradually with the grinding action of the dog's teeth and saliva. 
Pure Dog Bullbars are made from 100% buffalo horn.  Therefore they are classed as a "raw" product as they are so natural, meaning they are full of goodness.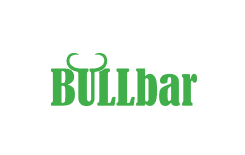 Pure Dog Bullbars are safe, won't splinter or chip or cause blockages and they don't contain nylon like some long lasting chews. Furthermore, they are not an 'empty' chew like rawhide and in fact, contain important minerals.  They are practical because they clean the dog's teeth, rather than bung them up like some dog chews and they're great for dogs with sensitive tummies. Even dogs who are losing weight can enjoy Bullbars because they only contain a tiny amount of fat (3%).  Consequently, as they are a natural product they don't contain additives or preservatives.
Warning
Bullbars are not suitable for puppies or elderly dogs or those with brittle teeth as they are so tough. 

There is a chance that these bars will stain carpet.

As with any chews, always supervise your dog. 

Make sure your dog is gnawing and not bearing down hard. 

Discard any remaining small pieces.  

Do not leave in the elements.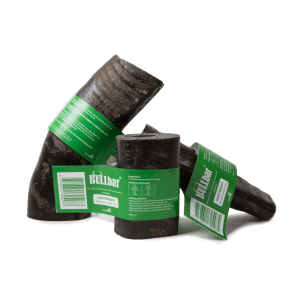 You can try rubbing the Pure Dog Bullbar with sandpaper or a nail file in the unlikely event that your dog isn't interested in chewing it.  Alternatively, if your dog still isn't interested in it, try smearing a small amount of peanut butter or honey on it, or soaking it overnight in water in the refrigerator.  Remember, your dog may leave and go back to the buffalo chew many times before it's finished as Bullbars are very long-lasting. 
Benefits of the Pure Dog Bullbar:
Sizes of the Pure Dog Bullbar:
Lightweight (minimum weight 120g) – suitable for small to medium dogs.
Heavyweight (minimum weight 250g) – suitable for large dogs and strong chewers.
Jumbo (minimum weight 400g) – suitable for extra large dogs.
 

Pure Dog Bullbars are ethically sourced and DEFRA approved.
Please follow and like us:
Tags: antler bar, antler chew, bufallo horn dog chew, buffalo dog chew, bull bar, bullbar, dog, dog chew, horn chew, pure dog