Description
A dog's chance to have his cake and eat it too! The Zogoflex Tux is the perfect combination of a supremely stuffable and tossable dog treat toy – made from guaranteed-tough Zogoflex®.  Tux is pliable, bouncy, non-toxic, recyclable and buoyant. Simply stuff your dog's favourite treat into the cavity of Tux and let 'er rip.  Furthermore, Tux is even dishwasher safe for easy cleaning!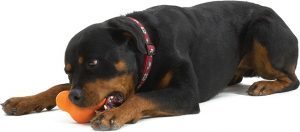 Zogoflex Tux is a treat toy designed to withstand chewing, and to be fun with or without a treat!
Unfortunately colour cannot be specified when ordering.
As with all interactive toys, it is important to supervise play.
This toy measures 6″.

Please follow and like us:
Tags: bored dog, dog, dog food toy, Dog mental stimulation, dog toy, food toy, kong toy, stimulation dog toy, stuffable dog toy, Tux, Tux Toy, Zogoflex Tux