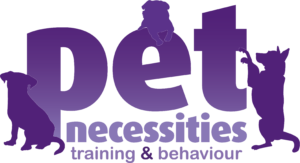 Course Dates with Availability
No classes running, due to the Covid-19 outbreak. 
Skype/Zoom sessions can be arranged either on a one-off, or regular basis.  Charged at £40 per hour.
Social distance training sessions at Egham Cricket Club.  Charged at £50 per hour.
We will be resuming normal business as soon as possible.
We know how important it is to train your dog, so we aim to offer services to suit you and your faithful friend.  Whether you have a specific training problem, an unruly adolescent who needs a training top-up, or a puppy that needs basic dog training, Pet Necessities is the company for you!  We have many years' of experience and we really do know how to train dogs.
If you are unsure as to which service would suit you and your dog, or have any questions, then please feel free to contact us.  You are more than welcome to watch a lesson before booking, as it is important to ensure that you are happy with any training establishment and the methods they use before attending with your dog.
We allow a maximum of six dogs in our dog training classes unless otherwise stated.  Aggressive dogs will not be allowed to join a group session, but can be helped on an individual basis.  Classes are based outdoors wherever possible to ensure that your dog is trained in a real-life environment.  Dogs cannot easily transfer learning from a village hall to a large open field, and what dog responds the same in these two environments?  We want to see your dog behaving as he would on a walk, so we are able to offer you relevant advice.
Consistency is the key to canine training, so the whole family can attend our dog training courses if they wish.  Children are more than welcome to attend a training class, providing that they are under control and do not disrupt the class.  Individual sessions with your children can be arranged if required.
We understand that you may have a busy schedule and work long hours during the week.  Therefore we offer weekday, evening and weekend appointments to suit you.
Pre-Puppy House Visit
Would suit people who are thinking about getting a puppy and have questions.  You may be a prospective first time dog owner keen to get it right, or unsure of the breed of dog that would best suit your family situation. You may want to know what to look for in a good breeder, what puppy to choose out of the litter etc.  Many people take their puppy to classes at twelve weeks of age, eager to hear all of the tips on how to deal with topics such as playbiting and toilet training, but why wait until then?  That is four weeks that you have wasted, possibly doing the wrong thing……have a trainer meet you before your puppy comes home so you know exactly what to do right from day one!  We can show you the best way to train a puppy, to get you started on the right path.  A one hour session in your home.
£35.00 within a 5 mile radius of Egham, Surrey
£45.00 within a 5 – 10 mile radius of Egham, Surrey
Visits thereafter are possible, but fees will be calculated on a mileage basis.
Puppy House Visit
Suitable for puppies not yet inoculated and therefore unable to attend puppy school.  However, you may still have lots of questions regarding crate training, toilet training, play biting, stealing etc.  You may be super-keen and want to start teaching your dog his basic training commands before he can go on walks.  A two hour session in your home, to answer any questions you have regarding your puppy's behaviour, and to receive guidance as to how to raise a confident, well-mannered dog. Training a puppy isn't easy, but we will give you support based upon our many years' of experience.  One hour visits possible.
£70.00 within a 5 mile radius of Egham, Surrey
£80.00 within a 5 – 10 mile radius of Egham, Surrey
Visits thereafter are possible, but fees will be calculated on a mileage basis.
Training Walks
If your problem is specific to being out on a walk, or to a particular area you normally walk in, then why take your dog to classes to solve the problem?  It is far more effective to have a trainer come out on a walk with you to show you how to deal with specific behaviours in that location.  One hour session, a two hour option is available if required.
£50.00 within a 5 mile radius of Egham, Surrey.  
£60.00 within a 5 – 10 mile radius of Egham, Surrey.  
Visits thereafter are possible, but fees will be calculated on a mileage basis.
Tellington TTouch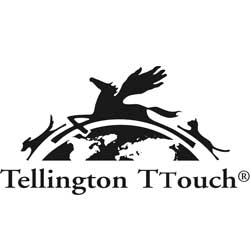 TTouch – promoting your animal's behavioural, emotional and physical well-being.  Visit the UK website www.tilleyfarm.org.uk.
These workshops are designed to teach you how to achieve a calm and confident canine, based on co-operation, trust and understanding. Specific exercises (Groundwork) and TTouches (Bodywork) are used to increase body awareness and build confidence as well as releasing tension, improving circulation and promoting a greater sense of well-being.  It will enhance the relationship with your dog, building a deeper connection and understanding of how he thinks and feels. TTouch can give you the skills to help your dog cope with situations that he may find stressful e.g. visiting the vet.
It is easy to do; just some simple ear work can help to lower his heart and respiration rate. Very useful for vet visits, keeping your dog calm whilst in the waiting room and during the consultation.  It can help if your dog gets over heated on a hot day, (always get to a shady spot as well!).  Ear work can also prevent or reduce your dog from going into a state of shock.
Both the Bodywork and the Groundwork are useful for dogs with anxiety related behavioural issues (e.g., noise sensitivity, general nervousness), hyperactivity, handling issues and for building confidence and self control.  However, you don't have to have a problem with your dog to give TTouch a go!  It's a really nice thing to do with your dog and they just love it!
Introduction to Tellington TTouch Training Workshop
A 3-hour-long workshop to give you an introduction to the both the Bodywork and Groundwork side of TTouch.  Specific movements and TTouches are used to improve circulation, release tension and promote a greater sense of well-being. Using the Tellington TTouch method to improve your dog's confidence, self control, co-ordination and athletic ability. "Groundwork" involves your dog increasing his awareness of his body and gaining confidence through negotiating different, low-level obstacles, turns and surfaces. Useful for dealing with problems such as reluctance to socialise, mobility issues, jumping up, lack of concentration, etc.  For questions regarding suitability for you and your dog, please contact us.
Taught by Kerry Jenkinson, Companion Animal Practitioner, P2.
Cost £40.00 per dog and handler, £40.00 without a dog (tea & coffee provided).  Handout sheets will also accompany the workshop.
Click here for the date of the next Introduction to Tellington TTouch Workshop.
Trick Training Workshop
A two-hour workshop for those who want to have fun, fun, fun! The workshop will include tricks, targeting, shaping exercises and much more.  The exact content will depend on the dogs attending, but it promises to be a jam-packed session guaranteeing a tired dog and an inspired owner!
Cost £25.00 per dog and handler (tea & coffee provided).  Click here for the date of the next Trick Training Workshop.
Trick Training Course
Who needs a dog that will jump through your arms or collect your slippers for you? No-one, but what fun! Maybe you have done all the standard training exercises and still want to learn more, or you have a bored dog that needs more stimulation.  As fun and light-hearted as this type of training is, it can also have very positive effects on your dog's attentiveness, and on the dog-owner bond.
Cost £70.00 for a 6-week course. Click here for the date of the next Trick Training Course.
Galen Myotherapy Dog Massage Workshops with Lucy Tyrrell
Further details on Lucy can be found on:
Website: www.pawsitivetouch.co.uk
Facebook: www.facebook.com/pawsitivemyotherapy
Twitter: @pawsitivemyo